Verboticism: Beautastrophous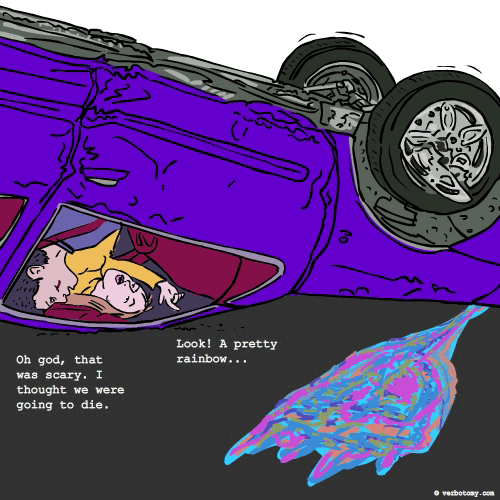 DEFINITION: v. To see beauty in the midst of a complete disaster. n. The ability to see beauty in the rainbow hues of a toxic oil spill, or in the remnants of a poster torn down long ago, or in the subtle cracks in the plaster of a cheap, cold-water flat.
Voted For: Beautastrophous
Successfully added your vote for "Beautastrophous".
You still have one vote left...
Created by: readerwriter
Pronunciation: quihk-fihx-ah-tihc
Sentence: The sun was rising as the waters reached the second floor windows of their home. Rube had been at work all night singing "Running Bear loved little White Dove, with a love, deep as the sea...". Now, he was putting the finishing touches on the canoe he had been cheerfully carving from the large tree filling most of their bedroom. As Rube's wife climbed in, it dawned on her that her husband might be an incurable quickfixotic.
Etymology: Building on QUIXOTIC (from Don Quixote/chasing windmills/Man of La Mancha), meaning idealistic in a romantic or impractical way + QUICK FIX
----------------------------
COMMENTS:
super - Jabberwocky, 2009-05-13: 05:55:00
----------------------------
Created by: vicminer
Pronunciation: beau-ti-saster
Sentence: The artist srtived to make a scultpure of a beautiful woman, but it turned out to be a beautaster.
Etymology: beaut-beautiful saster-star
Created by: Krixwell
Pronunciation: fi-NIC-u-ly
Sentence: As she was focusing on the beauty of the oil spill and not the reason and consequences, James admired Sally's finiculy.
Etymology: Contraction of "finem cuniculum", Latin for "(the) end of (the) tunnel", with an anglizised ending -y.
Created by: galwaywegian
Pronunciation: diz ay steet
Sentence: "Wow how many people get to see an iceberg this close up while on a cruise?"
Etymology: disaster aesthete
Created by: DrDurrer
Pronunciation: Pos-i-think
Sentence: Michael, being very posithink, smiled even though he was in a tough situation because even though the Ravens had lost the previous night he had the Broncos defense on his fantasy team
Etymology: Posi = positive. Think = To think
Created by: meganfis
Pronunciation: Beati-horid-berg
Sentence: Oh, my, dog look how beatihoridberg that colorful poisoness beatle is!
Etymology: Beati- meaning the beautiful looking object. Horid- gross situation. Berg- the place of accident
Created by: artr
Pronunciation: əpbētn
Sentence: No matter what slaps him upside the head, Tim is always upbeaten. When tragedy gives him a beatdown he always comes up smiling. Some think he is very brave and optimistic. Others think he is a complete simpleton.
Etymology: upbeat (cheerful; optimistic) + beaten (exhausted and dejected)
Created by: specks28
Pronunciation: Col-lar-if-fic
Sentence: The car crash looked like a colorific accident.
Etymology: Color- colorful ific- terrific
Created by: mrskellyscl
Pronunciation: polly-an-al-ist
Sentence: Mary, a certified pollyanalyst, came close to losing her license after she tried to lead a chorus of "The Sun Will Come Out Tomorrow" at Daddy Warbuck's wake.
Etymology: Pollyanna: a person regarded as blindly or foolishly optimistic -- named after the heroine of the novel "Pollyanna" by Eleanor Hodgman Porter and the movie starring Haley Mills about a dreadfully optimistic child very much like the equally dreadful child movie, "Little Orphan Annie." + analyst: one who is adept at examining a whole and breaking it down into it's parts for examination.
----------------------------
COMMENTS:
:) - galwaywegian, 2009-05-12: 07:46:00
This is a fab verbotomy! - readerwriter, 2009-05-12: 11:19:00
terrific word!! - libertybelle, 2009-05-12: 12:13:00
love it! - Jabberwocky, 2009-05-13: 05:53:00
----------------------------
Created by: Jabberwocky
Pronunciation: cat/ah/cliz/mixt/bless/ing
Sentence: As the tornado ripped the roof off the house and left in its stead a jagged roofline, Sally saw it as a cataclysmixedblessing. She would design a new roof with similar jagged edges and an open concept. It would be beautiful.
Etymology: cataclysmic + mixed blessing
----------------------------
COMMENTS:
Talk about a Twister Sister! - Nosila, 2009-05-12: 18:15:00
----------------------------