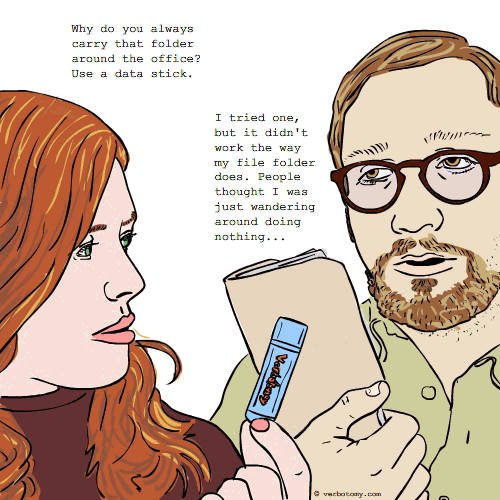 DEFINITION: n. A prop (e.g. papers, files or any non-functional equipment) used to create the illusion of busyness. v. To use office supplies to create the illusion that you are working.
Already Voted
Vote not counted. We have already counted two anonymous votes from your network. If you haven't voted yet, you can login and then we will count your vote.
---
Shamanila
You still have one vote left...
Created by: jesster
Pronunciation: Ass-id-you-plicity
Sentence: While Neville's constant assiduplicity never fooled the people that actually accomplished things, management was completely taken in. He was promoted so frequently that his failures never caught up to him, and soon was in charge of the entire department.
Etymology: assiduous (involved in often constant activity )+ duplicity (the inclination or practice of misleading others through lies or trickery)
Created by: rephil
Pronunciation: im-PORT-man-toh
Sentence: Gerry's importmanteau always impressed visitors, but the maintenance man's keys signified he held more true power in the building.
Etymology: import -- rank, necessity, gravity; portmanteau -- a suitcase
----------------------------
COMMENTS:
this is a great word!! - Jabberwocky, 2007-06-13: 14:48:00
Thanks -- I know I've had a few in my time! - rephil, 2007-06-13: 14:50:00
Erm -- importmanteaux, not great words! - rephil, 2007-06-13: 14:51:00
actually your words are terrific - there have just been so many good words to choose from lately - I especially like euphonia - Jabberwocky, 2007-06-13: 15:17:00
----------------------------
Created by: ohwtepph
Pronunciation: wohrk-oh-thuh-wiz-prop
Sentence: Oh god, that Ben has been such a work-o-the-wispropper ever since he started out in the business of being the business supervisor. The work-o-the-wisprop he carried around were very convincing: papers to be signed, a neat brown folder and a clipboard with Transformers scribbles on it.
Etymology: will-o-the-wisp [illusion] + work + prop + wiz [the best at something e.g. a math wiz]
----------------------------
COMMENTS:
good one! - pguse, 2007-06-13: 10:04:00
thanks. :D - ohwtepph, 2007-06-13: 10:28:00
It's a good one and I voted for you! - Stevenson0, 2007-06-13: 17:36:00
How did you get that punctuation in there? - mplsbohemian, 2007-06-13: 19:43:00
you can work all sorts of magic if you go into 'oops i want to change the spelling' bit of the edit section.... it makes things much more verbsatile - rikboyee, 2007-06-13: 22:23:00
----------------------------
Created by: artr
Pronunciation: aw-fuh-sahd
Sentence: Stanley likes to make everybody think he is the most productive member of his team. He creates a smokescreen by creating an officade of papers and folders that practically obscure his window and keep prying eyes from seeing how little actual work he does.
Etymology: office (a room, set of rooms, or building where the business of a commercial or industrial organization or of a professional person is conducted) + facade (a superficial appearance or illusion of something)
Created by: ryanpetie
Pronunciation: foh-sim-ill-lay
Sentence: Darren gathered his fauxsimiles and strode around the office like a man possessed. 'A few more laps,' he thought, 'and I could be managing partner.'
Etymology: faux/facsimile
Created by: TJayzz
Pronunciation: Fy-el-o-foe
Sentence: Tarquin never went anywhere without his fileofaux, he wanted everyone to think he was extremely busy doing a very important job, when really he was just loafing around doing as little as possible.
Etymology: File(a folder for keeping loose papers in order) + Faux(artificial,imitation) ORIGIN French false = Fileofaux. See also filofax(a loose-leaf notebook for recording notes) ORIGIN representing a colloquial pronunciation of file of facts
----------------------------
COMMENTS:
Fawny collision of meanings there TJ. Good word! - scrabbelicious, 2008-08-06: 06:48:00
File a foe under fiendish! - metrohumanx, 2008-08-06: 16:25:00
Great minds think alike...I had toyed with that word as well...isn't that fauxbulous! - Nosila, 2008-08-06: 21:52:00
----------------------------
Created by: metrohumanx
Pronunciation: SIM-uhl-AY-bore-ig
Sentence: The Bearded One entered with a brushed-aluminum clipboard under his arm, knowing it would cause a stir amongst the real workers. Every week he carried a new SIMULABORIG which gave the impression of semi-competence and enthusiasm which fooled no one. Last time it was a P.D.A. which made his productivity plummet faster than his dignity. His vain attempts to impress the boss ranged from a simple legal pad to a glowing little spaceship planted in his ear. Last year he attemped to SIMULABORIG a staff meeting but the only wireless hotspot was behind his sweaty forehead. The office joke was that he had a whole toybox full of SIMULABORIGS to shamelessly display at every opportunity. His manifolderol seemed to have no end. He would always carry some ubiquitool, unencumbered by any knowledge of its function. Particularly fond of pseudotechnocrap, he subscribed to every high-end gizmoid catalog available. Despite the appearance of The Bearded One's weekly McGuffen, his job performance brought new meaning to the word "adequate".
Etymology: SIMUlate+lABOr+RIG=SIMULABORIG_____ simulate: to give or assume the appearance or effect of... often with the intent to deceive--Latin "simulatus", past participle of "simulare"... to copy, represent, feign, from similis "like"_____ labor: expenditure of physical or mental effort especially when difficult or compulsory-Middle English, from Anglo-French labur, from Latin labor; perhaps akin to Latin labare to totter, labi to slip_____rig: to make or construct hastily or in a makeshift manner-Me riggen,prob of Scand.orig____variations: simulaborite, simulaborana, simulaborat, simulaborology etc.
----------------------------
COMMENTS:
http://isitchristmas.com/ - metrohumanx, 2008-08-06: 08:41:00
My name is MetrohumanX and I improve this message. - metrohumanx, 2008-08-06: 16:26:00
----------------------------
Created by: libertybelle
Pronunciation: man-ILL-uh-raj
Sentence: Under the cloaking of a perfectly executed malinarage, Jeff buried his head into the folder labeled "Hudson Acct." as he wandered through the cubicle forest and down to the nearby Starbucks for the 3rd time that morning.
Etymology: manila - as in type of folder typically found in an office setting + Mirage -illusion
Created by: bigdog
Pronunciation: slawth-o-flazhe
Sentence: The piles of paper on my desk are all just slothouflage to stop the boss from seeing my pillow and scotch bottle.
Etymology: sloth (indolence) + camouflage (disguise)
Created by: Mustang
Pronunciation: DOCK-yew-flawj
Sentence: Harper fancied himself a very clever tactician, using an old empty attache case as docuflage, believing that coworkers were convinced that he was actually packing a large work schedule, though everyone in the office had been on to his scam for years.
Etymology: Blend of the words 'document' (various paperwork) and 'camouflage' (a device or stratagem used for concealment)