Verboticism: Responsibilityitis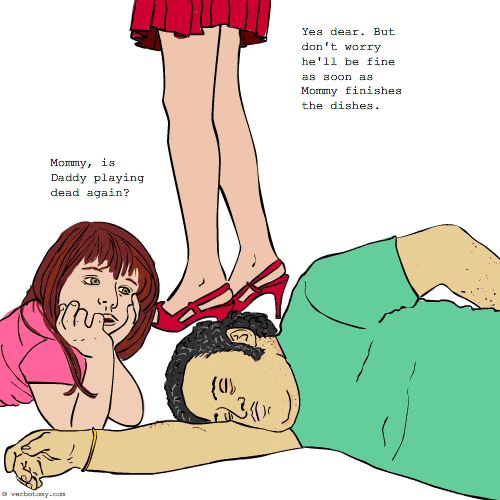 DEFINITION: v. To be physically overcome by a sudden illness, disability, or even death when asked to participate in unrewarding activities -- like work, or household chores. n. A person who gets sick when asked to work.
Already Voted
Vote not counted. We have already counted two anonymous votes from your network. If you haven't voted yet, you can login and then we will count your vote.
---
Responsibilityitis
You still have one vote left...
Created by: verndo
Pronunciation: LAY Zee Lep See
Sentence: Just as an epilepsy attack can strike with a sudden flash of light so too can a lazylepsi attack with a sudden to-do list or chore request.
Etymology: Lazy and Epilepsy
Created by: missparaguay1991
Pronunciation: /dismotionable/ like in english
Sentence: I yesterday asked my husband to built the furniture we bought, and he became absolutely dismotionable! -Is your new boyfriend dismotionable? -Not dismotionable at all!
Etymology: dismotionable (adj.) dis- from English 'disable' + motion- from O.French 'motion, from Latin 'motionem' + -able- siffix expressing fitness from Latin 'ibilis'
Created by: evinced
Pronunciation:
Sentence:
Etymology:
Created by: HackMaster
Pronunciation: lack-O-wanna-do-that-itis
Sentence: When asked to wash the car, I suddenly experienced an onset of lackowannadothatitis.
Etymology:
Created by: Malemocynt
Pronunciation:
Sentence:
Etymology:
Created by: Frejesal
Pronunciation: Lah-BORE-if-eyed
Sentence: When I asked him to run an errand he fell to the ground, totally laborified at the prospect of work!
Etymology:
Created by: TheBocaj
Pronunciation: DOWN-for-thuh-KOUN-tuh-BIL-i-tee
Sentence: Steve was asked to clean his room on Saturday; however, when his mother checked up on him at lunchtime, she discovered he had contracted yet another case of downforthecontability, which put him out of commission until dinner was served.
Etymology: To be out for the fight [down for the count] when others are relying on you [accountability]
Created by: artr
Pronunciation: vig-er-mawr-tis
Sentence: Tony is an active, if slightly paunchy, dad. He plays with the kids. He even rides his bike a couple days a week. A strange affliction hits him when household chores are mentioned. He immediately comes down with acute vigormortis, a condition where all energy drains from his body to the point that he can barely lift a finger. The cure comes as quickly as it manifests as soon as the chore is complete or even assigned to someone else.
Etymology: vigor (healthy physical or mental energy or power; vitality) + rigor mortis (the stiffening of the body after death)
Created by: wattoo
Pronunciation:
Sentence: When his wife asked him to mow the lawn, he ergasmed all over the floor.
Etymology: A combination of ergo (meaning work) and asm mfron spasm.
Created by: bleucube
Pronunciation: Mal Ork Way
Sentence: Feeling Malorkway about the dishes.
Etymology: Mal meaning bad Orkway is work in pig latin