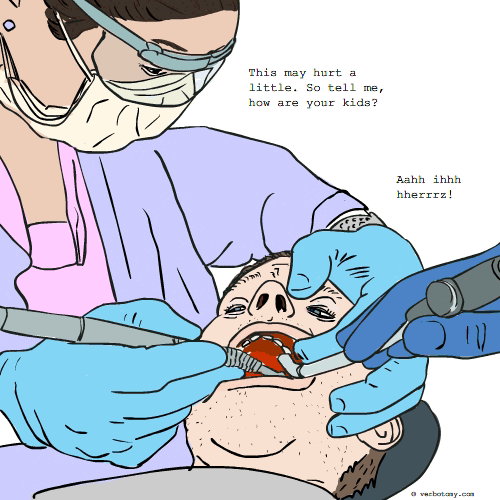 DEFINITION: n., Forced small talk used by professional caregivers to put patients at ease. (Not usually effective.) v., To ask insipid questions while subjecting a person to an intimate, awkward or painful procedure.
Already Voted
Vote not counted. We have already counted two anonymous votes from your network. If you haven't voted yet, you can login and then we will count your vote.
---
Medigab
You still have one vote left...
Created by: KenM2
Pronunciation:
Sentence: as soon as the dentist placed the the drill in my mouth he started his speakuneasy.
Etymology: speak and uneasy
Created by: Deirdre
Pronunciation:
Sentence:
Etymology: Form the word interlocutor, meaning a participant in a conversation.
Created by: parm289
Pronunciation:
Sentence:
Etymology:
Created by: wordslikevenom
Pronunciation: Jab-ber-floss-ee
Sentence: The dental nurse yanked the tape from the spool and pulling it taut, sliced down into Dick's incisors, grinning as she sawed to-and-fro. He could taste the blood from his gums running down into the back of his mouth. "One, two! One, two! And through and through the vorpal floss went snicker-snack! She left him dead, and with his head she went galumphing back". As the jabberflossy flowed so did the puddle beneath Dick's seat ...
Etymology: Jabber - To talk rapidly, unintelligibly, or idly. Floss - dental floss
Created by: artr
Pronunciation: medi-blathər
Sentence: The treatment was bad enough. The mediblather was about to make him scream. The only thing that was mildly distracting him from the pain was the thought of choking the shallow life out of this jabbermonkey.
Etymology: medical (of or relating to the science of medicine, or to the treatment of illness and injuries) + blather (talk long-windedly without making very much sense)
Created by: aigle101
Pronunciation: de-fear-ism
Sentence: To "defear"in a moment of extreme fear or panic: "The dentist used defearism to make the patient feel comfortable"
Etymology: de; to undo - fear ;terribly scared of something
----------------------------
COMMENTS:
makes sense to me .... - aigle101, 2007-10-17: 13:49:00
----------------------------
Created by: e9b9t9
Pronunciation:
Sentence:
Etymology:
Created by: Juny1
Pronunciation: chat-eh-tion
Sentence: The doctor enjoyed the chatation, being done to the paitent
Etymology:
Created by: Jabberwocky
Pronunciation: oh/blig/a/story
Sentence: Every six months I am muzzled and forced to listen to the dentist's obligastory about his three sons - almost as boring as his drill.
Etymology: obligatory + story
Created by: Nosila
Pronunciation: kew and ayks
Sentence: Dr. Yvonne is one multi-tasking dentist. She can mask up, get both fists in your mouth simultaneously, probe and scrape and poke and pull and all the while, ask what you thought about medical/political/societal and philosophical issues, while giving you the benefit of her own thoughts on each topic and understanding your feeble, numb, unintelligible answers. At the same time, she gives verbal notes to her dental assistant for your file, as she tells her what she needs next and calculates your bill and how much your insurance will pay for each treatment. Yes, she has QandAches down to a fine science. No wonder they call her Leader of the Plaque!
Etymology: Q and A (Questions and Answers)& Aches (a dull persistent (usually moderately intense) pain; be the source of pain;feel physical pain)