Verboticism: Screwupacuss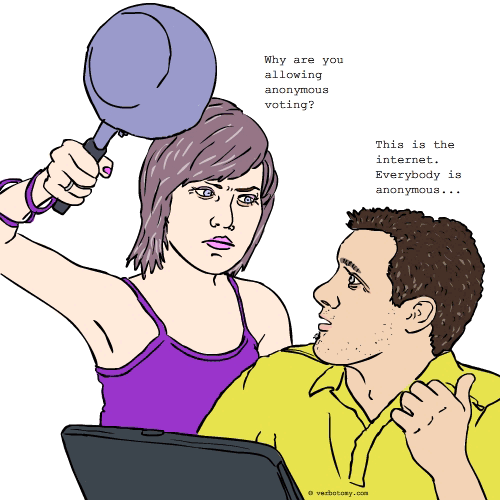 DEFINITION: v. To whack someone over the head with a pot (or any other handy utensil), because they won't do what you say. n. A complaint about someone who doesn't do things the way you want.
Already Voted
Vote not counted. We have already counted two anonymous votes from your network. If you haven't voted yet, you can login and then we will count your vote.
---
Screwupacuss
You still have one vote left...
Created by: Biscotti
Pronunciation: pah t sk waab el
Sentence: Mike knew he was in for a potsquabble when arguing with Becky that Kwik Trip was spelled with a "Q", and not a "Kw". He knew he was wrong since he had gassed up there not 10 minutes ago and distinctly remembered the sign. Becky already had her cast iron pan in hand...
Etymology: Pot (cooking vessel for the stove, also called a pan) + squabble (a fight)
----------------------------
COMMENTS:
Very apt. Love it - emdeejay, 2009-04-29: 02:49:00
----------------------------
Created by: Bionica
Pronunciation: slamn-payne
Sentence: If you do something incredibly bad in nature, like with super evil intentions, God will slampain the shit out of you.
Etymology:
Created by: bookowl
Pronunciation: conk/vince
Sentence: If you don't believe me I will try to conkvince you.
Etymology: conk + convince
----------------------------
COMMENTS:
Ha ha...like it! - readerwriter, 2009-04-29: 11:18:00
Conklusively good word! - Nosila, 2009-04-29: 18:35:00
I'm conkvinced! Perfect word for the definition. - splendiction, 2009-04-29: 22:32:00
love this word! - mweinmann, 2009-04-30: 08:39:00
----------------------------
Created by: mrskellyscl
Pronunciation: kitchen-dee-ranged
Sentence: Everyone knew not to mess with mom in the kitchen. If she got mad whatever was in her hand, a pot, spoon or spatula, became an implement of household law enforcement. Most especially, we learned not argue with her about chores or to criticize her cooking. She could get absolutely kitchenderanged and we'd see her skullery skills. We decided that it was much better to kiss the cook than to kid her.
Etymology: word based on Kitchen Range (stove) -- kitchen + deranged: to behave wildly or irrationally
Created by: EpicButCrazy
Pronunciation:
Sentence:
Etymology:
Created by: Nosila
Pronunciation: whyne rak
Sentence: When Crackin' Rosie could not get her way with her spouse, Corky Merlot, she would use the wine rack as a whinerack and sack him on the head. He was mulling over grabbing a cab and leaving her to cross the bordeaux,and run off with his girlfriend, Sweet Sherry. To his riesling, any port in a storm was better than living a lie and becoming Pinot keyo. Being married to Rosie had become a real champain.
Etymology: Whine (to complain;a complaint uttered in a plaintive whining way)& Rack (torment emotionally or mentally;an instrument of torture)& Wordplay on Wine Rack (a wooden or metal frame used to store bottles of wine horizontally)
----------------------------
COMMENTS:
Pinot keyo - I had to sound that out, then I got it! Funny... : ) - karenanne, 2010-11-11: 16:25:00
I heard of a wine for seniors...you can drink it all night and not have to get up to visit the toilet...it's called Pinot More! - Nosila, 2010-11-11: 18:55:00
----------------------------
Created by: Faherty94
Pronunciation:
Sentence:
Etymology:
Created by: mweinmann
Pronunciation: pan + skul + let
Sentence: Marjorie gave Henry a hard panskullet to the side of his head everytime he did not do her bidding, did her bidding badly, bid incorrectly, or just plain annoyed her.
Etymology: Pan(skillet,make a sweeping movement), Skull (the bony skeleton of the head of vertebrates), Skillet (A pan for frying, generally large and heavy)
Created by: galwaywegian
Pronunciation: leh kruhsh ay
Sentence: Her lecrushet reestablished the pecking order in the kitchen. From now on the only sauce in that kitchen would be edible.
Etymology: le creuset (heavy pots, pans andcasseroles)crush
----------------------------
COMMENTS:
funny said with a French accent - Jabberwocky, 2009-04-29: 12:37:00
Un mot formidable, cheri(e)! - Nosila, 2009-04-29: 18:31:00
----------------------------
Created by: Nosila
Pronunciation: whyn bot tel
Sentence: Gerry never saw the whinebottle come crashing down on his head. When he regained conciousness, he realized he should have expected it. Every year during American Idol and Dancing with the Stars season, he was supposed to vote for his wife's favourites, not his own. When would he ever learn???
Etymology: Whine (complain, moan) & Winebottle (glass vessel that wine comes in)