Verboticism: Cryptosleuth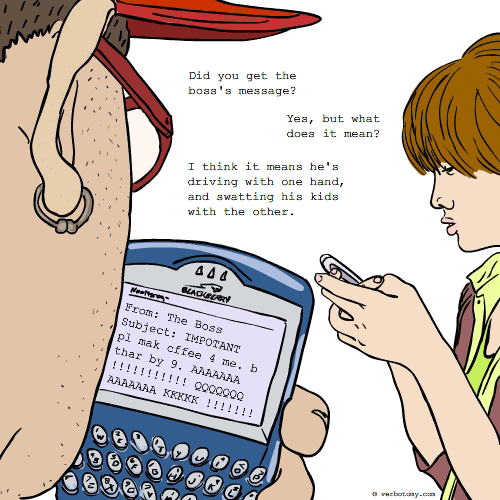 DEFINITION: v., To grasp the meaning of muddled texts like blog posts, emails and text messages where standard grammatical or spelling conventions have been ignored. n., The ability to read and understand confused or poorly written messages.
Voted For: Cryptosleuth
Successfully added your vote for "Cryptosleuth".
You still have one vote left...
Created by: zxvasdf
Pronunciation: Qwert lyze
Sentence: Because in this day and age people are wont to multitask, as showcased in the common combination of driving and texting, more and more people are becoming skilled in qwertlysis. The same mental processes are also applied to old timers trying to qwertlyze the newfangled 'net jargon floating about on the web.
Etymology: Qwerty (traditional configuration of the keyboard designed in the days of typewriters to spread apart the commonly used letters, thus preventing jamming. This configuration is not necessary in the digital age) & analyze (to examine methodically by separating into parts and studying their interrelations)
----------------------------
COMMENTS:
interesting etymology - Jabberwocky, 2008-10-14: 13:20:00
----------------------------
Created by: artr
Pronunciation: sīfərfaðəm
Sentence: Harry spent his career breaking coded messages in his job at the NSA. Despite this he has trouble trying to cypherfathom emails and texts from his kids.
Etymology: cypher (a secret or disguised way of writing) + fathom (understand)
Created by: Stevenson0
Pronunciation: tex/hume
Sentence: His job was to texhume cryptic messages that had been buried in emails.
Etymology: TEXHUME - verb from TEXT (a unit of connected writing) + EXHUME (to revive, or restore; bring to light)
----------------------------
COMMENTS:
Good word - Nosila, 2008-10-14: 20:14:00
----------------------------
Created by: hendrixius
Pronunciation: dee-sibe-fur-ing
Sentence: I am having trouble decybphering this text message; WTF does MLFJJUICK 4 NOLK mean?
Etymology: decipher and cyber
Created by: gregflynn
Pronunciation:
Sentence:
Etymology:
----------------------------
COMMENTS:
Noun: Ntrprt8n - gregflynn, 2007-11-15: 00:09:00
----------------------------
Created by: Nosila
Pronunciation: geek code er
Sentence: Josh could unravel any online message...he was a geekcoder of the top degree. If he had of lived 60 years earlier, he would have been called (The Man Called Incryted`.
Etymology: Geek (nerd, computer whiz) & Coder (someone who can encrypt/decrypt secret messages) Wordplay on Decoder (translater of encrypted messages)
Created by: OZZIEBOB
Pronunciation: sahy-ber-TEKS-ter-i-tee
Sentence: Bob was worried when he recieved an email, in cyberslang, saying: " i h8 u q-tip!" His grandson, Thomas, who had cybertexterity with rab, told him: " don't let it 'k' your 'b' it's t-i-c and p2c2e."
Etymology: 1. cybertexterity:blend of cyber, text & dexterity. 2.q-tip:an elderly, white-haired person. 3."k" his "b": bug him. 3."t-in-c":tongue in cheek. 4. rab :level of understanding above the general knowledge of a given subject. 5.p2c2e:too complicated too exp
----------------------------
COMMENTS:
yikes! no idea what that means - I have very litte cybertexterity (great word) - Jabberwocky, 2007-11-15: 13:03:00
Yep, I like it too! - purpleartichokes, 2007-11-15: 19:01:00
----------------------------
Created by: sipsoccer
Pronunciation: (Text-a-ty-tus)
Sentence: What the heck? You got textititis or something? I can't read your texts.
Etymology: Text: what you do or see. ititis: diseased
Created by: emilylind
Pronunciation: Say jumble then reader
Sentence: He's a amazing jumblreader !
Etymology:
Created by: remistram
Pronunciation: di-sahy-fe-text
Sentence: She knew what days to steer clear of her boss, she intuitively could tell how messed up he was by her inability to deciphetext his morning messages.
Etymology: decipher + text