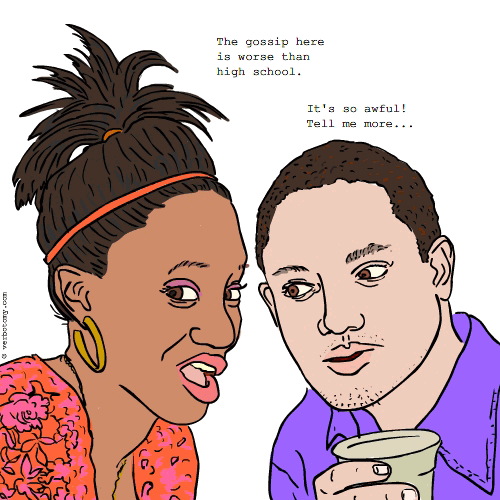 DEFINITION: v. To complain and complain about a problem without ever taking action to correct it. n. A complaint about something which you can fix but choose not to.
Already Voted
Vote not counted. We have already counted two anonymous votes from your network. If you haven't voted yet, you can login and then we will count your vote.
---
Carpidle
You still have one vote left...
Created by: administraitor
Pronunciation: blai-zem-ee
Sentence: The water cooler was the place to hear a fresh blazemy in the heady work-shy days before bankruptcy
Etymology: blame + lazy
Created by: remistram
Pronunciation: gr-owl-ah-path
Sentence: Being a growlapath was a self-fulfilling prophecy for petty Myrtle. Shooting herself in the foot was a daily exercise.
Etymology: growl (gripe) + apath (as in pathological) and (as in apathy)
Created by: galwaywegian
Pronunciation: karrp o sell
Sentence: Every morning her main carpousel was that her phone was on the right of her desk despite office management knowing that she was left handed. If something wasn't done soon, one of these days she would move it herself!
Etymology: carousel, carp
----------------------------
COMMENTS:
Sounds fishy... maybe she had carpal punnel syndrome. - purpleartichokes, 2007-06-15: 09:28:00
Or carpritis. - Clayton, 2007-06-15: 18:37:00
AppalLING behaviour in this workPLAICE. I'm BREAMful of her complaints and don't want to listen to her any MORAY, she is just FLOUNDERing in her job. I wonder what is the best ANGLE to SCHNAPPER out of it? COD we put our thinking CARPS on? There's no point being KOI about it. We may just have to tell her straight ANCHOVY her out the DORY. - petaj, 2007-06-15: 21:02:00
She catfish a sentence without trawling someone a name... everybody just tunas her out. If they didn't, they'd have to gill her. Minnow have tried. Quite a pickerel. She brines and brines, all trout the day. She must've lobster mind or something. I'm fin ta angle her. Shoal her who's boss. - Clayton, 2007-06-15: 23:29:00
Clayton, thanks for being that special salmon. I'm shore you'll do a fin job. - petaj, 2007-06-16: 01:35:00
Fish shore. - Clayton, 2007-06-16: 08:32:00
----------------------------
Created by: Clayton
Pronunciation: di-RAHYD-l-nis
Sentence: Gracie's incessant deridling was symptomatic of her untenable hypocrisycophancy. She was even heard complaining to the boss about the tissues in her own wastebasket.
Etymology: deride + idleness
----------------------------
COMMENTS:
That's snot Gracie, that's Ingracieous. - purpleartichokes, 2007-06-15: 09:32:00
Lord nose! - Clayton, 2007-06-15: 18:13:00
Snorting with laughter! This sentence could be the pick of the day! - petaj, 2007-06-15: 21:12:00
That'd be so upsniffting. - Clayton, 2007-06-15: 23:10:00
Love grows where my Rosemary goes And nobody nose like me (sung by Pinochio) - Jabberwocky, 2007-06-16: 00:10:00
Haha. There's no business like nose business. (Sung by a plastic surgeon.) - Clayton, 2007-06-16: 02:59:00
----------------------------
Created by: artr
Pronunciation: SUP-wine
Sentence: Why fix a problem when you can supwhine about it?
Etymology: Supine (failing to act or protest as a result of moral weakness) + whine (a feeble or petulant complaint)
Created by: ekath
Pronunciation: wall-u-tion
Sentence: Is she actually upset that herc lothes don't match?? ... no, she just picked out clashing clothes this morning because she enjoys walluting
Etymology: from wallow + solution
Created by: Mustang
Pronunciation: gryp-eh-THET-ic
Sentence: Winston is absolutely and hopelessly gripethetic; he constantly yammers about issues and conditions that he thinks are wrong but when it comes to making any effort to change them he remains silent.
Etymology: Blend of 'gripe' (v. to complain with grumbling ) and 'pathetic' (adj. pitifully inferior or inadequate)
Created by: airliebee
Pronunciation: whyne-cras-tuh-nayt
Sentence: "Jodie spends more time whinecrastinating about her fat butt than she does exercising. If she worked her body out as much as she works her jaw out, she'd be a size six too!" "Barry is the biggest whinecrastinator on the planet. He was telling me how frustrating it is that his desk is messy. Well, it's his own fault, isn't it! Why didn't he just clean it up instead of wasting his breath telling me about it? I have actual work to do!" "Thomas, your whinecrastination is beyond belief! Ever heard of Nike? Just do it, man!"
Etymology: whine - to make a complaining cry or sound + crastinate, from procrastinate - to delay or postpone action; put off doing something.
Created by: Nosila
Pronunciation: bor do whyne
Sentence: They called her Crackling Rosie, because she was the Whine Connoissuer in the office. She would complain about everything, even things she could fix herself. She was also the world's worst gossip. When she was boredowhine, she filled up her chats with actual and perceived items about her co-workers. She met her match though when Rhett Seena joined the staff. He was a way worse whiner and gossip than she. It especially hit her hard when he started inventing gossip about her. The boredowhine became a borderline and had to go off on stress leave.
Etymology: Bored (uninterested because of frequent exposure or indulgence) & o (short for of) & Whine (to complain in a paintive, whining way) & Play on Bordeaux Wine (any of several red or white wines produced around Bordeaux, France or wines resembling them)
Created by: ohwtepph
Pronunciation: fuhs-sloth
Sentence: She's such a fussloth. She complains about workplace obscenity just to score with the boss while wearing that thong and miniskirt to work.
Etymology: fuss [complain] + sloth [a lazy person] + slut [I just felt like it was an important part of the etymology] :D