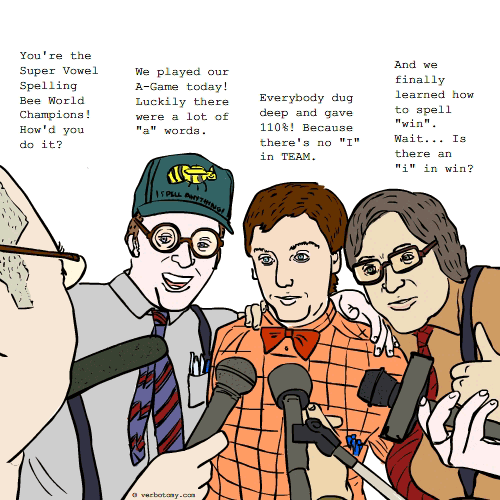 DEFINITION: v., To speak in an inspirational but perhaps incomprehensible manner by stringing together a series of grunts and clichés. n., An inarticulate TV or radio, post-game interview, typically given by a panting, toothless, sweating, verbally-challenged, and hugely overpaid, athletic superstar.
Voted For: Inspirate
Successfully added your vote for "Inspirate".
You still have one vote left...
Created by: rikboyee
Pronunciation: show-me-thuh-mum-bul
Sentence: he was an outstanding athlete, but it was well known that in every interview he would showmethemumble
Etymology: show me the money, mumble
----------------------------
COMMENTS:
nice - bookowl, 2008-02-04: 16:02:00
My favorite! Cuts right to the heart of it all ... the money! - silveryaspen, 2008-02-05: 07:40:00
----------------------------
Created by: artr
Pronunciation: platiˌdoōd
Sentence: They won the big game so the reporters immediately descended on the team platidude. He was a sure-fire source for over-the-top ready-made, who's-your-daddy, can't-be-beat, who-wants-pie, in-your-face one-liners.
Etymology: platitude (a remark or statement, esp. one with a moral content, that has been used too often to be interesting or thoughtful) + dude (a man; a guy)
----------------------------
COMMENTS:
Always admire and appreciate those 1 letter changes to a word that mades it a blend of two words then have it fit the definition to a T. - silveryaspen, 2008-11-27: 12:46:00
so subtle I didn't notice it until I read the etymology - what a difference a letter makes - Jabberwocky, 2008-11-27: 13:18:00
Hey, Dude, love your word! - Nosila, 2008-11-27: 20:08:00
Good one - OZZIEBOB, 2008-11-29: 14:45:00
----------------------------
Created by: Maxine
Pronunciation: jawk tawk
Sentence: My son's old baseball coach, Mr. Greminski, was a regular jocktalker. His jocktalk brought tears to my eyes, and a restraining order to my legal files.
Etymology: Jock: Obsessed athlete who like play sport. Talk: Loosely defined as issuing words from one's mouth.
----------------------------
COMMENTS:
Excellent! - silveryaspen, 2008-02-04: 22:09:00
----------------------------
Created by: Nosila
Pronunciation: jok tok
Sentence: She was tired of all the pre, during and post game jabber and analyses. The garbled speaking with anyone remotely connected with the sport. Most infuriating was the jocktalk after the big win. There was only one reason the team one...they got more goals than the other team! Duh...
Etymology: Jock (a person trained to compete in sports;an athlete) & Talk (speak)
Created by: Mustang
Pronunciation: soo - PER - floo - unt
Sentence: Lindal gave his usual superfluent responses to the rapid fire questions about the game following his teams' victory even though he had little to do with the outcome.
Etymology: Mix of superfluous and fluent
----------------------------
COMMENTS:
Very clever, and it sounds natural, too! - Maxine, 2008-02-04: 08:40:00
So natural that I was convinced it was an actual word for a moment! - ErWenn, 2008-02-04: 09:57:00
nice one - HerOralHighness, 2008-02-04: 17:54:00
very good!!!!!!!!! - purpleman, 2008-02-04: 22:52:00
A good blend! - bananabender, 2008-02-04: 23:53:00
----------------------------
Created by: silveryaspen
Pronunciation: stuhm bull dumb
Sentence: The sportscaster said "Oh!" After a long pregnant pause, he uttered "Uh Oh!" Then breathed a long sigh. Then seconds later "Oh No!" with another long sigh, followed by heavy breathing, then by "Eh!" He gulped a few times, then groaned and moaned. Then switched to "Yeah" .... "Come on" .... "Ah Hah!" "Mmmm Hmmm" then "Hooray!" Not once, did he anounce the fumbles, followed by the touch down. That sportscaster's stumble blocks made him the epitome of a stumbledumb!
Etymology: Stumblebum and Dumb. Stumblebum - an offensive term for somebody who appears to do things in a blundering unskillful way. Dumb - Encarta gives the 7 definitions listed and at least the first 5 apply (#3 especially): 1. unintelligent: regarded as having or showing a low level of intelligence ( informal insult ) 2. offensive term: an offensive term meaning unable to speak 3. temporarily speechless: temporarily unable to speak because of shock, fear, surprise, or anger 4. done without speech: performed or expressed without using speech 5. intentionally silent: deliberately not speaking or refusing to speak 6. producing no sound: designed or adapted to produce no sound 7. lacking human speech: lacking the power of speech because not human
----------------------------
COMMENTS:
Sounds great! :-) - logarithm, 2008-11-27: 11:10:00
too true - Jabberwocky, 2008-11-27: 13:20:00
Like it - OZZIEBOB, 2008-11-29: 14:43:00
----------------------------
Created by: silveryaspen
Pronunciation: sport-old
Sentence: The spokesportsman sportled a badinage of thisthat until he ran out of stupidendous chitchat.
Etymology: Sportled: a play on sports, oracle, and chortled. Stupidendous: a play on stupid and stupendous.
Created by: rombus
Pronunciation: sports - skat
Sentence: Bob led his team to a brilliantly executed final touchdown so, now for the sportscat.... "So, Bob, tell me how you executed that brilliant play leading up to your team's final touchdown." "Well, Bart, I sckibby deed da down on my right foot and started to do the scatty walk and bada run and getting ready to dibble de throw da ball. It was dooble da received and scatty touch da down."
Etymology: Sports (Physical activity that is governed by a set of rules or customs and often engaged in competitively) + Scat (Jazz singing in which improvised, meaningless syllables are sung to a melody,vocal improvisation with random vocables and syllables or without words at all.)
----------------------------
COMMENTS:
terrific word - Jabberwocky, 2008-11-27: 13:19:00
----------------------------
Created by: petaj
Pronunciation: patt-er-up
Sentence: The whole side fronted up for the patterup with the journalists after winning the game. The PITCHer started up first with his SPIELE, which soon degenerated into a garBALLed outpouring. His teammates all started shouting the usual cliches about the proverbial wire, the good fight put up by the opposition and taking just one game at a time.
Etymology: Batter Up - baseball term to call up the next batter + patter (speech - especially fast/rehearsed) pitch (salesman's speech) spiele (German for games) ball (as in games)
----------------------------
COMMENTS:
Classy. The (not so) subtle innuendo adds another level to the pun and hints insightfully at the obsequious relationship between media and sport - emdeejay, 2008-11-27: 04:42:00
It's a hit we can all have a ball using! - silveryaspen, 2008-11-27: 12:29:00
You're a diamond in the rough, petaj...and you keep all your bases covered! - Nosila, 2008-11-27: 20:03:00
----------------------------
Created by: Jabberwocky
Pronunciation: pa/twa/moe/nee
Sentence: Inbreeding of rock stars finally led to the inevitable evolution of patoismoany, a strange dialect understood only by crazed fans.
Etymology: patois (regional dialect) + moan + patrimony