Verboticism: Animarillson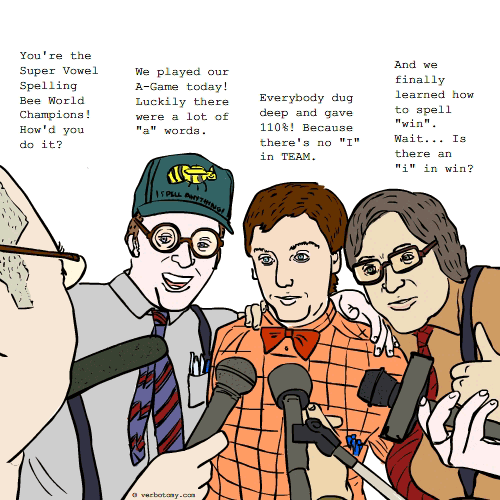 DEFINITION: v., To speak in an inspirational but perhaps incomprehensible manner by stringing together a series of grunts and clichés. n., An inarticulate TV or radio, post-game interview, typically given by a panting, toothless, sweating, verbally-challenged, and hugely overpaid, athletic superstar.
Voted For: Animarillson
Successfully added your vote for "Animarillson".
You still have one vote left...
Created by: logarithm
Pronunciation: ˈʃvaɐt-sən-ae-bEl
Sentence: I haven't a single idea what the public announcement at the mall is schwarzenabbling about. For god's sake, the management should replace the bad speakers!
Etymology: 1) Schwarzenegger: refers to the way Arnold Schwarzenegger speaks. 2) Gabble: rapid and indistinct speech.
----------------------------
COMMENTS:
Super Duper! - silveryaspen, 2008-11-27: 01:24:00
Thanx Silveryaspen. It's time to cast my vote for today! - logarithm, 2008-11-27: 10:59:00
----------------------------
Created by: HerOralHighness
Pronunciation: Jack - a - glory
Sentence: sometimes the team spokesman begins to believe his own bull-shite. When this happens, we can forget a brief post match 'gloatament' (gloat & statement) as is normal, and find ourselves listening to a Jackaglory of epic proportions.
Etymology: a mix of glory & jackanory (kids programme where celebs read a story in a way that could hold the attention of even the most restless of kids). You can sometimes stop a fabulist in their tracks by butting in with the phrase 'tell us a story, Jackanory'
Created by: bookowl
Pronunciation: pat/whah
Sentence: His religious patwha was so confusing I didn't understand a word.
Etymology: patois + wha (short for what?)
Created by: Mustang
Pronunciation: soo - PER - floo - unt
Sentence: Lindal gave his usual superfluent responses to the rapid fire questions about the game following his teams' victory even though he had little to do with the outcome.
Etymology: Mix of superfluous and fluent
----------------------------
COMMENTS:
Very clever, and it sounds natural, too! - Maxine, 2008-02-04: 08:40:00
So natural that I was convinced it was an actual word for a moment! - ErWenn, 2008-02-04: 09:57:00
nice one - HerOralHighness, 2008-02-04: 17:54:00
very good!!!!!!!!! - purpleman, 2008-02-04: 22:52:00
A good blend! - bananabender, 2008-02-04: 23:53:00
----------------------------
Created by: Stevenson0
Pronunciation: beef/cant
Sentence: Once all the sports writers were present, the football hero rolled into his beefcant of all the wonderful things his team did on the field today.
Etymology: beefcake (male with a muscular physique) + cant (jargon, lingo)
----------------------------
COMMENTS:
very nice!!!!!!!! - purpleman, 2008-02-04: 15:38:00
wow its weird that no1 is puting any commants - purpleman, 2008-02-04: 18:11:00
Any comment I make would have me blushing and giggling ... but I'll share ... finally. Stevenson, beefcant is a most appealing verboticism! Simply, because we ladies always like the beefcake that always comes with it! - silveryaspen, 2008-02-07: 21:01:00
----------------------------
Created by: artr
Pronunciation: platichatər
Sentence: After an embarrassing comment or two, the coach decided to give players a few talking points to consider. Now the post-game interviews have become so much platichatter.
Etymology: platitude (a remark or statement, esp. one with a moral content, that has been used too often to be interesting or thoughtful) + chatter (talk rapidly or incessantly about trivial matters)
Created by: LegendDeer
Pronunciation:
Sentence:
Etymology:
Created by: artr
Pronunciation: platiˌdoōd
Sentence: They won the big game so the reporters immediately descended on the team platidude. He was a sure-fire source for over-the-top ready-made, who's-your-daddy, can't-be-beat, who-wants-pie, in-your-face one-liners.
Etymology: platitude (a remark or statement, esp. one with a moral content, that has been used too often to be interesting or thoughtful) + dude (a man; a guy)
----------------------------
COMMENTS:
Always admire and appreciate those 1 letter changes to a word that mades it a blend of two words then have it fit the definition to a T. - silveryaspen, 2008-11-27: 12:46:00
so subtle I didn't notice it until I read the etymology - what a difference a letter makes - Jabberwocky, 2008-11-27: 13:18:00
Hey, Dude, love your word! - Nosila, 2008-11-27: 20:08:00
Good one - OZZIEBOB, 2008-11-29: 14:45:00
----------------------------
Created by: sean30
Pronunciation: Ani-mar-ill-son
Sentence: i suffer with Animarillson, but im famous and rich and super and great. What where we talking about again?
Etymology: Animarillson; to remain ignorant and stupid, and to remain so after by luck a person succeeds in sport...(word created from all other sports commenters names; Hill/Motson/Kamare etc)
----------------------------
COMMENTS:
I like the way you constructed your word - bookowl, 2008-02-04: 15:58:00
----------------------------
Voted For! | Comments and Points
Created by: Maxine
Pronunciation: jawk tawk
Sentence: My son's old baseball coach, Mr. Greminski, was a regular jocktalker. His jocktalk brought tears to my eyes, and a restraining order to my legal files.
Etymology: Jock: Obsessed athlete who like play sport. Talk: Loosely defined as issuing words from one's mouth.
----------------------------
COMMENTS:
Excellent! - silveryaspen, 2008-02-04: 22:09:00
----------------------------