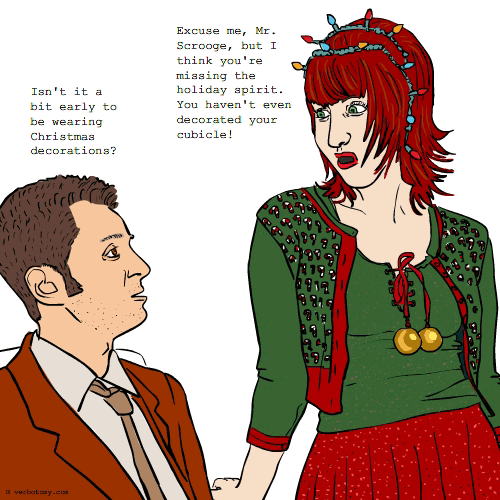 DEFINITION: n., A person so enamored with the holidays that they don't just deck their halls and home, but they also decorate their car, their cubicle, their pets, and themselves. v., To obsessively decorate according to seasonal holidays.
Already Voted
Vote not counted. We have already counted two anonymous votes from your network. If you haven't voted yet, you can login and then we will count your vote.
---
Hollycost
You still have one vote left...
Created by: MichaelCampbellUK
Pronunciation: fes-kwe-nox-a-fre-nic
Sentence: Ursula's fesquinoxaphrenia drove her like some crazed clockwork squirrel to stockpile the seasons baubles.
Etymology: Fes- (from festive) -quinox (from equinox, a seasonal event) -aphrenia (hebaphrenia, mental illness characterised by extreme hoarding). See 'fesquinoxafrenic' N.
Created by: Stevenson0
Pronunciation: fest/ces/sive
Sentence: She is completely and totally festcessive about the Christmas season.
Etymology: festive + obcessive + excessive
----------------------------
COMMENTS:
Great word! - Mustang, 2007-12-03: 17:51:00
Very nice, and good for all holidays. - purpleartichokes, 2007-12-03: 19:03:00
Another great word! - OZZIEBOB, 2007-12-04: 16:29:00
----------------------------
Created by: Nosila
Pronunciation: haw lee kost
Sentence: Holly Kost did it every year. From the minute Halloween ended, she started to decorate everything in her world with Christmas decorations. We are talking every inch inside and out of her yard, house, garage, car, plus her entire floor at work, her kids, her dog & cat, her spouse and herself. Every year she spent more and more money on new treasures. When she grudgingly took down her Christmas excess, just before Valentine's Day, she realized that she no longer had enough room to store away all her stuff at home. It was then that she decided to rent a big storage unit and pile everything into it. Sure, it was expensive, but so worth it, because she could also buy more stuff next year. Her hubby shook his head sadly, my wife is a YuleFool, she knows Noelimits, she's a Mistletroll, she knows Snowboundaries, she's a FiggyPudding, I think she hit herself on the old EggNoggin a long time ago and maybe we should put her in a Santatarium. Each year Holly Kost hollycost him more and more!
Etymology: Holly (Decorative Christmas plant with red berries) & Cost (the total spent for goods or services including money and time and labor)& Holocaust (an act of great destruction/loss)
----------------------------
COMMENTS:
Spectacular! - emdeejay, 2008-12-09: 22:16:00
----------------------------
Created by: rombus
Pronunciation: jing - oh - low
Sentence: Stuart had turned into a complete jingolo. There were holiday bells of all sorts everywhere....both at work and at home. He just couldn't stop hanging them as he was sooo into the spirit this year. They were hanging from the doors, halls, walls, cubicles, phones, file cabinets, bathroom fixtures, refrigerator and copy machine....and those were just some of the ones he had adorned the workplace with!
Etymology: Jingle (from jingle bells) Gigolo (a dissolute person; usually a man who is morally unrestrained).... In combination, unrestrained jingle bells
----------------------------
COMMENTS:
Exceptional. A real bellringer that is a-pealing. - silveryaspen, 2008-12-09: 12:13:00
I'm just a jingolo and everywhere I go, I spread joy and mistletoe...cute word - Nosila, 2008-12-09: 23:18:00
good one - OZZIEBOB, 2008-12-13: 16:13:00
----------------------------
Created by: teriaki
Pronunciation: fe-STID-ee-uhs
Sentence: She went about the house hanging each ornament with festidious care.
Etymology: L. festus (festival) + L. taedium (wearisome or tedious state)
Created by: Mustang
Pronunciation: ob-SESS-ohr-ayt
Sentence: Once again, Glendora showed her extreme holiday spirit and went on a crusade to obssesorate everything including phones, the john, and every window in her home, the same in her office and even hung ornaments in the interior of her car.
Etymology: Blend of 'obssess' (to engage in obsessive thinking : become obsessed with an idea) and 'decorate' (to furnish with something ornamental )
Created by: sanssouci
Pronunciation: ah deck shone
Sentence: "I did not want to seek help for my addection because it did not feel like a problem. Christmas was such a wondeful time of year so what if people thought I was way too obsessed with geting the christmas decs up everywhere! "
Etymology: combination of addiction and decoration Addiction - the state of being enslaved to a habit or practice or to something that is psychologically or physically habit-forming, as narcotics, to such an extent that its cessation causes severe trauma. Decoration - The act, process, technique, or art of decorating.
Created by: snekorb
Pronunciation:
Sentence:
Etymology:
Created by: mvsmyth
Pronunciation: HOLL-uh-dazz-lerr
Sentence: Jeff didn't realize he had married a holidazzler until it was too late, and now every festive occasion was marked by decorations covering every square inch of their split-level rancher---inside and out!
Etymology: A combination of "holiday", any generally accepted occasion for celebration, and "dazzle", meaning in this case to overpower with a bright and spectacular display.
Created by: galwaywegian
Pronunciation: kris terry kal
Sentence: if you go Christerical in november yule probably regret it.
Etymology: hysterical, Christmas
----------------------------
COMMENTS:
Ho Ho Ho - Nosila, 2011-12-12: 23:05:00
----------------------------