Verboticism: Sneezebucket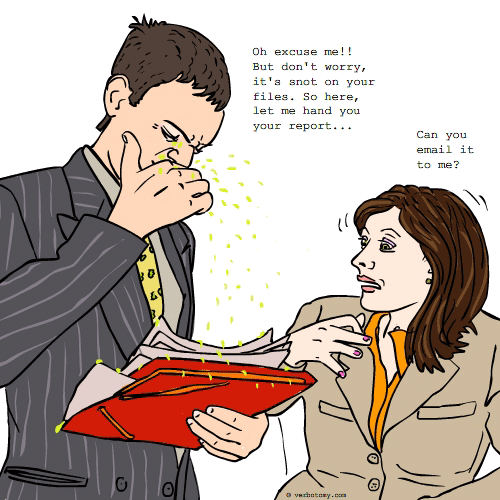 DEFINITION: v. To be so hardworking and dedicated to your job that you come to work even when you're sick and dangerously infectious. n. A person who comes to work sneezing, coughing, contagious, and sick as a dog.
Voted For: Sneezebucket
Successfully added your vote For "Sneezebucket".
You still have one vote left...
Created by: mrskellyscl
Pronunciation: blow-worker
Sentence: The bloworker sat down next to her at the meeting carrying tissues and cough drops, convinced that work would stop without his input. In spite of all her precautions, Eva knew that it was only a matter of time before she, too, would be hit by the flu because of this snotty, disgusting clod.
Etymology: blow (nose): expel nasal mucus (snot) through one's nostrils into a tissue or hankee + (co)worker: a fellow employee
----------------------------
COMMENTS:
Reminds me of some other germy creatures -- children who are sent to school sick because the parents don't have a babysitter. - mrskellyscl, 2009-06-19: 07:14:00
----------------------------
Created by: kirill
Pronunciation:
Sentence: I'd like to help you, but all all of our representatives are busy, except that one, but he's more of an ailsperson than a salesperson today.
Etymology: Ailment, as in an illness or disorder, and salesperson.
Created by: Jabberwocky
Pronunciation: co/hork/ur
Sentence: Spu Tum was a stalwart cohorker who never missed a day and left his mark on any work or worker he touched.
Etymology: co-worker + hork (as in hork up phlegm)
Created by: Mustang
Pronunciation: in-fekt-eh-side
Sentence: Delbert seemed to oblivious to the fact that he committed infecticide among his clients and coworkers when he insisted on showing up at work even when extremely ill.
Etymology: Blend of 'infect' (to pass germs along) and the suffix '-cide' (to kill)
Created by: TimTheEnchanter
Pronunciation: EE-gur-snee-zur
Sentence: Chad walked around the conference room introducing himself, alternately sneezing into his hand then offering to shake the hands of the guests. As the client backed away from Chad, everyone else knew the company was going to lose yet another account because Chad insisted on being such an eagersneezer who showed up no matter how contagious he might be.
Etymology: Eager beaver + Sneeze
----------------------------
COMMENTS:
funny sentence - Jabberwocky, 2008-05-07: 15:44:00
Beware, the Killer Rabbit! - pieceof314, 2008-05-08: 14:09:00
Enchanting - OZZIEBOB, 2008-05-08: 19:41:00
----------------------------
Created by: bookowl
Pronunciation: tipe/foyd/mary
Sentence: Typephoidmary is the office manager and spreads her germs to every corner of the office.
Etymology: Typhoid Mary + type
----------------------------
COMMENTS:
Very clever. - Tigger, 2008-05-07: 22:15:00
----------------------------
Created by: Nosila
Pronunciation: cof fee urn ner
Sentence: Con Tagion worked as a germologist in a large jewellery store. His favourite song was Peggy Lee's "Fever"; his favourite movies were "Outbreak" and "The English Patient". Con loved to drink Bloody Mary's with Lyme juice and he loved the inspiration he got from tv medical dramas. He was also a coughyearner. He earned his living while he coughed and sneezed all over his customers and his co-workers, his work station...everywhere in the store. He came into work no matter how sick he was, because he needed the money to buy new Shingles for his home and he could not afford to miss his measle-y wages. But every time he came in ill, 3 others got sick and had to miss work. His co-workers were fed up with his communicability and his boss had taken to calling him Typhoid Larry. Con loved his job, because the time really flu by, but his computer really was virused and his infectious enthusiasm for his job was really,well,infectious. Daily, into the workplace, he brought in bacteria and some suspected fronteria, too! One day his boss decided that Con would never take time off work if he thought his workload would suffer, so in a rash decision, a lovely female quaranteen was hired to help him. His boss told him that he was sure Con would soon feel better because his new assistant, Penny Cillin, was bound to help!
Etymology: Cough( sudden expulsion of air from the lungs that clears the air passages; a common symptom of upper respiratory infection or bronchitis or pneumonia or tuberculosis) & coffee (a beverage consisting of an infusion of ground coffee beans) & urn (a large pot for making coffee or tea) & earner (someone who earn wages in return for their labor)
----------------------------
COMMENTS:
great etymology - Jabberwocky, 2008-05-07: 11:41:00
WHOA sentence! - daniellegeorge, 2008-05-08: 14:18:00
----------------------------
Created by: Nosila
Pronunciation: a choor nee man
Sentence: Rex Hale was a skilled carpenter. When he was on a project, nothing kept him from working, not even illness. His co-workers hated the fact that he was more achoorneyman than journeyman on those occasions.
Etymology: Achoo (sneeze noise) & Journeyman (a skilled worker who practices some trade or handicraft)
Created by: Nosila
Pronunciation: jurm ploy ee
Sentence: Peter was well on his way to becoming Germployee of the Month. He regularly came in to work, when he should have stayed in his sick bed. The more contagious he was, the more hours he would expose his co-workers to his nasty virulent bacterium. If he just once stayed home when he felt this way, office absenteeism would plummet. His new nickname was Peter Pandemic.
Etymology: Germ (a minute life form (especially a disease-causing bacterium) & Employee (a worker who is hired to perform a job)
----------------------------
COMMENTS:
funny - love Peter Pandemic - Jabberwocky, 2009-06-19: 13:40:00
Clever - Mustang, 2009-06-20: 05:58:00
----------------------------
Created by: arrrteest
Pronunciation: ill-dus-tree-us
Sentence: Phil was a snotbucket that overfloweth. Still, he came to work and was an illdustrious little bee that paid no attention to whom he sneezed on or on what he wiped his moist and slimy hands.
Etymology: ill, sick + industrious, hard-working