Verboticism: Mythicaligraphy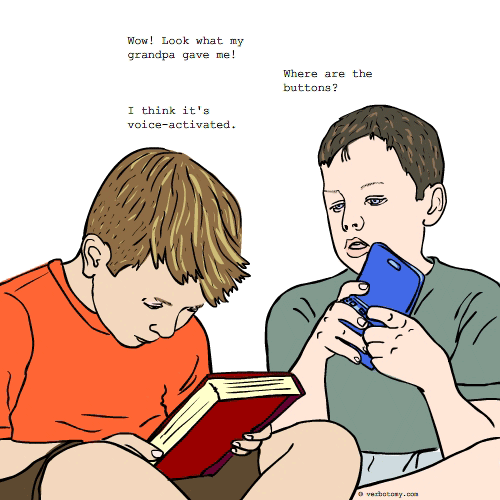 DEFINITION: n. An old media format that is no longer popular or easily accessible, such as floppy disks, VHS tapes or stone tablets. v. To try to access data stored in an old-fashioned media format, especially it requires the use archaic technology and/or protocols.
Already Voted
Vote not counted. We have already counted two anonymous votes from your network. If you haven't voted yet, you can login and then we will count your vote.
---
Mythicaligraphy
Thanks for voting! You have now used both of your votes today.
Created by: Nosila
Pronunciation: pas say im pur fect
Sentence: Young Billy adored his grandfather and loved it when the old geezer told him stories about the passéimperfect. He knew his grandpa made this stuff up, but he loved to hear about the good old days anyway and in particular about the ancient tools they used. He regaled Billy with yarns about how his phone had numbers that went round and round when he stuck his finger in the holes for each set of numbers. Grandpa also told him about watching tv shows on the one channel in black & white and for some reason you needed a rabbit's ears to see the tiny picture better. (As if!) He also told him of cooking without using a microwave (yeah, right!) and buying big blocks of ice to keep everything in the fridge cold (you've got to be kidding!). That crazy Grandpa, he told Billy that a log on was something you put on a bonfire and that a link was something you put on your sleeves to keep the cuffs closed. He said a password was something you spoke into a grill on a door to get into a speak-easy (must be some kind of spellcheck for voice actioned computers?) Billy loved the really old things that Grandpa gave him. Like most boys his age, he loved dinosaurs. He was so excited today, because Grandpa was coming over and bringing him a thesaurus...he couldn't wait to play with it!
Etymology: passé (out of fashion) & past imperfect (grammar: tense imperfect refers to an action that is uncompleted or abandoned)
----------------------------
COMMENTS:
Rrrawr! Oh no, here comes the fierce Thesaurus Rex!... That's hilarious. - Tigger, 2008-03-14: 03:09:00
All that was makes me curious about what is to come! Great etymology ... conveys the way passages from the old ... lead to the knew ... growing, evolving, better and better ... perfecting! A Perfectly wonderful sentence and word! - silveryaspen, 2008-03-14: 17:08:00
Thanks, Tigger & silveryaspen. I always thought the best name for the Toronto NBA Team was TorontoSaurus Wrecks...but no one would listen... - Nosila, 2008-03-14: 23:16:00
----------------------------
Created by: Biscotti
Pronunciation: pree-hiss-tore-teck
Sentence: Billy didn't even know what to do when his dad gave him an old record player and records. This was too prehistortech for him so he thought he had to cut the records down to size to fit into his cd player. Dad quickly corrected him after destroying his first Elvis record.
Etymology: pre-historic (very old, before history) + tech (short for technology)
Created by: artr
Pronunciation: out-deyt-uhd
Sentence: She was so happy to finally be able to purchase her first Zip Drive and later upgrade to a Jazz Drive only to see them completely outdatad.
Etymology: outdated (make antiquated or obsolete) + data (a body of facts; information)
Created by: mweinmann
Pronunciation: molden - old - ees
Sentence: All my moldenoldies are on 8-track tapes or records. My 8-track player has broken and the records have stopped going around.
Etymology: Mold ( a fungus that produces a superficial growth on various kinds of damp or decaying organic matter Oldies (Oldies is a generic term commonly used to describe a radio format that usually concentrates on Top 40 music from the 1950s, 1960s and 1970s) Golden Oldies (popular hits of the past).
----------------------------
COMMENTS:
very nice - Jabberwocky, 2009-01-07: 14:21:00
Better clean em out before they start to smell! Cute create! - silveryaspen, 2009-01-07: 14:44:00
I like it. - Mustang, 2009-01-08: 18:47:00
----------------------------
Created by: yelloweyes
Pronunciation: ar-key-ah-prawk-tem
Sentence:
Etymology:
Created by: picabomama
Pronunciation: bay/tuh/vate
Sentence: Kelly's family had long maintained a fine collection of home movies spanning several formerly cutting edge film and video formats. This was a great comfort to Kelly, because although the tragic video of her junior prom still existed, it would take a significant effort to secure the proper equipment to betavate it.
Etymology: excavate- to extract material + beta- the sad and long dead video format
----------------------------
COMMENTS:
I see what you mean. A fine verb indeed. - stache, 2008-03-14: 17:50:00
Beta-hooked on betavated! Great creation! - silveryaspen, 2008-03-14: 18:15:00
It is indeed beta to give than receive. Good One, picabomama! - Nosila, 2008-03-14: 23:07:00
----------------------------
Created by: Stevenson0
Pronunciation: tik/stingkt
Sentence: The inability of any of today's computers to read the written data on the old large floppy disks have made them textinct.
Etymology: text + extinct
----------------------------
COMMENTS:
Meaning readily apparent and so full! Ingenious choice of words to blend! Superb Won! - silveryaspen, 2008-03-14: 18:30:00
Excellent!! - Mustang, 2008-03-14: 19:38:00
Excellent! - OZZIEBOB, 2008-03-16: 17:07:00
----------------------------
Created by: wayoffcenter
Pronunciation: äbsəlētist
Sentence: Tommy feels that much of the best technology has been passed over because the majority of people are too dumb to appreciate it. He is a self-avowed obsoletist. Blackberry? iPhone? Forget them. He has his PDA and he's sticking with it.
Etymology: obsolete: no longer produced or used; out of date + elitist: a person who believes that a system or society should be ruled or dominated by an elite
----------------------------
COMMENTS:
Fun stuff! - artr, 2009-01-07: 06:39:00
----------------------------
Created by: Mustang
Pronunciation: ret - ro - surf
Sentence: Having only their granddad's discarded computer to rely on Delbert and Javier had no choice but to resort to retrosurfing method of finding information.
Etymology: Retro + surf
----------------------------
COMMENTS:
What a lot of retrosurfing has been done here today! Great angle! Great word! - silveryaspen, 2008-03-14: 18:41:00
----------------------------
Created by: silveryaspen
Pronunciation: gadg jettison
Sentence: Gadgets evolve so quickly, that those of today, are outdated tomorrow, and become gadjettisons.
Etymology: GADGETS, JETTISON. GADGETS - machines, objects, things. JETTISON - throw out, get rid of, abandon, discard, ditch, chuck, dump, chuck out
----------------------------
COMMENTS:
Egad! another top word! - galwaywegian, 2009-01-07: 12:05:00
great combo - Jabberwocky, 2009-01-07: 14:23:00
----------------------------