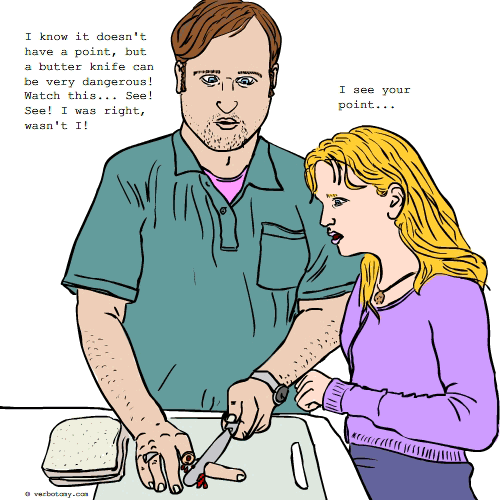 DEFINITION: n., The immense sense of self-satisfaction the one gets from winning a pointless argument. v., To be so addicted to proving yourself right that you argue compulsively, and endlessly, about anything and everything.
Voted For: Argusive
Successfully added your vote For "Argusive".
You still have one vote left...
Created by: mweinmann
Pronunciation: Fa - low - vik - toe - ree
Sentence: It was another fallowvictory for Ted. He had proven to his doubting neighbors that he could back his SUV into the garage blindfolded. It would take the better part of the summer to reconstruct the new family room addition that shared its back wall. Nevermind, Ted thought.... he decided to bask in the satisfaction that he was right, once again.
Etymology: Fallow (cultivated land that is not seeded or productive; undeveloped but potentially useful; condition of being unseeded) + Victory (state of having triumphed; defeat of enemy or opponent)
----------------------------
COMMENTS:
love it - Jabberwocky, 2008-11-11: 08:03:00
----------------------------
Created by: artr
Pronunciation: disˈpyoōtin
Sentence: Victor's detractors referred to him as Disputin. He seemed to revel in any opportunity to jump in on a debate. Whatever opinion someone expressed, he was all too ready to take up the opposing argument. It didn't matter how trivial the point, he would hammer his rival into submission. The only thing worse his assault was the gloating that followed.
Etymology: dispute (a disagreement, argument, or debate) + Rasputin (Russian monk. He exerted great influence over Tsar Nicholas II and his family during World War I known for his powers of elocution)
----------------------------
COMMENTS:
Can't argue over a dispute about Rasputin.... - Mustang, 2008-11-10: 06:55:00
Very interesting blend - OZZIEBOB, 2008-11-11: 03:45:00
great word - Jabberwocky, 2008-11-11: 08:01:00
simple yet so meaningful.... - rombus, 2008-11-11: 10:52:00
excellent word!! This is one for the dictionary! - libertybelle, 2008-11-11: 12:28:00
----------------------------
Created by: aubreymsilva
Pronunciation: arg-u-bator.
Sentence:
Etymology:
Created by: silveryaspen
Pronunciation: ne-ver-bend-ing
Sentence: Quick! Hide! Here comes Joe Kokomo, the endless debater! Even when you agree with him, he goes on and on with his neverbending!
Etymology: a composite of never bending with never-ending
----------------------------
COMMENTS:
I think they made a movei about Joe called 'The Neverbending Story' - Jabberwocky, 2008-01-11: 14:14:00
oops I meant movie - Jabberwocky, 2008-01-11: 14:15:00
----------------------------
Created by: JusMeLP
Pronunciation: Ob-KNOCKS-U-MEANT
Sentence: He is such an obnoxument human!!
Etymology: Obnoxious + Argument
Created by: treehous
Pronunciation: \pri-ˈpäs-t-i-ˈrä-ti-kə\ (pre-pos-tur-ott-ika)
Sentence: Joe felt a brief wave of preposterotica as his wife finally admitted he might be right.
Etymology: preposterous- from Latin præposterus "absurd, contrary to nature" erotica- from French érotique, from Greek erotikos, from eros (gen. erotos) "sexual love"
Created by: Mustang
Pronunciation: uhb-SESS-uh-sert
Sentence: Whenever he made any kind of point in an argument or discussion Woodrow would obsessassert his views until his audience would cave in whether or not they agreed with him.
Etymology: Blend of 'obsess' (to preoccupy intensely or abnormally obsessed with success0 and 'assert' (to state with assurance, confidence, or force; state strongly or positively)
Created by: galwaywegian
Pronunciation: dah g poom att ik
Sentence: He was always dogpoomatic about his nonconspiracy theories, like a paranoid optimist, thinking everyone was out to get him.....gifts
Etymology: dogmatic, dog poo
----------------------------
COMMENTS:
pretty shitty word - but I like it - Jabberwocky, 2008-01-11: 10:38:00
Does this word smell? Great sentence ... what a last word! - silveryaspen, 2008-01-11: 14:34:00
Really enjoyed your sentence ! - Tigger, 2008-01-12: 00:04:00
----------------------------
Created by: UncleRaf
Pronunciation: Smug-ay-shee-us
Sentence: I wanted so much to smack off that smugacious look on his face once and for all!
Etymology:
Created by: Stevenson0
Pronunciation: pet/ti/sess/ive
Sentence: Jack is pettisessive. He must be right about everything he says and will argue his point no matter how silly it is until you give up. Then he will cheer for himself and dance around.
Etymology: pettifog (argue) + petty (trival) + obsessive
----------------------------
COMMENTS:
Good word! - OZZIEBOB, 2008-01-13: 04:11:00
----------------------------