Verboticism: Stubbornthusiasm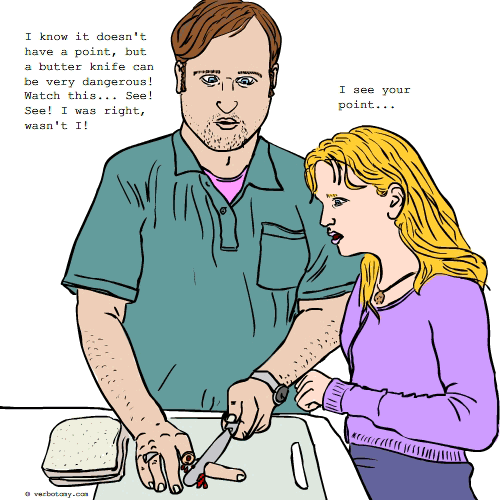 DEFINITION: n., The immense sense of self-satisfaction the one gets from winning a pointless argument. v., To be so addicted to proving yourself right that you argue compulsively, and endlessly, about anything and everything.
Voted For: Stubbornthusiasm
Successfully added your vote For "Stubbornthusiasm".
You still have one vote left...
Created by: day4ghee
Pronunciation: MY-WIF-IN-ITIS
Sentence: WHEN SALLY CUT ME WITHA RAMBO KNIFE JUST TO PROVE THAT SHE COULD SEW I REALIZED THAT SHE SUFFERED FROM MYWIFEINITIS LIKE MY WIFE WHO WON'T LEAVE ME THE HELL ALONE.AHHHHHHHH!!!
Etymology:
Created by: aubreymsilva
Pronunciation: arg-u-bator.
Sentence:
Etymology:
Created by: eljono
Pronunciation:
Sentence: She's very argusive, she just loves being right
Etymology: argumentative + compulsive
Created by: artr
Pronunciation: ärgyoōlēt
Sentence: Sydney has a family full of jocks. He*s not one of them. His forte is arguing. It doesn*t matter what the subject is, he can dredge up more meaningless trivia than anybody in the room. He is a real argulete. If he can*t win with logic, he will wear you down with blather.
Etymology: argue (exchange or express diverging or opposite views, typically in a heated or angry way) + athlete (a person who is proficient in sports and other forms of physical exercise)
Created by: rombus
Pronunciation: spat - te - toode
Sentence: What excitement swirled around Rhonda was multiplied by her extreme spattitude. She had a gift for creating arguments just to show that she knew more than everyone else. Even if she was wrong, she asserted herself with a forceful attitude of complete belief in her often incorrect "facts" and would go to any length to try to prove that she was right.
Etymology: Spat means to bicker, quarrel or fuss + attitude means state of mind; disposition or way of thinking or acting
----------------------------
COMMENTS:
Spaticulous word! - Nosila, 2008-11-10: 15:30:00
Excellent - OZZIEBOB, 2008-11-11: 03:48:00
nice - Jabberwocky, 2008-11-11: 08:02:00
----------------------------
Created by: Jessalynne
Pronunciation: a-cheev-miss-um
Sentence: The other day, my sister and I were perfectly fine until i started to pick a fight with her to feel a sense of achievemisim. My mother got mad because we fought for no apparent reason.
Etymology: achievemisim: (n) The sense of feeling accomplished, usually over no point at all.
Created by: mrskellyscl
Pronunciation: bick-tor-i-ous
Sentence: Jim was a notorious fussbudget and had to be bicktorious in every little squabble, so it became hard to live with him. He bickered with his wife about peanut butter brands and with his friends about golf. He bickered with his daughter about the way she cut bread and the baby about the way he held his bottle. Once he tried to pick a fight with his dog over a pork chop (he won, but it was hard to eat it without lips).
Etymology: bicker: to engage in petty squbbles or arguments + victorious: winning a conflict or struggle
Created by: mezebra
Pronunciation: Ray - von - dah - ism
Sentence: Sue's rayvondaism always gets in the way of meaningful conversation.
Etymology:
Created by: indelible1
Pronunciation:
Sentence:
Etymology:
Created by: Nosila
Pronunciation: com petti tiv
Sentence: Wayne was a very compettytive person who always had to have the last word. He would argue endlessly about things he knew little about, just so he could win. It was said people just gave in to shut him up...but he never let it end there...he would gloat and brag about how smart he was. It was very annoying. It was this tenacity that got him through Law School and saw him end up successfully litigating at the law firm of Spar, Quarrel, Bicker & Niggle.
Etymology: Competitive (showing a fighting disposition or argumentitive disposition) & Petty (trivial, minor of little importance)