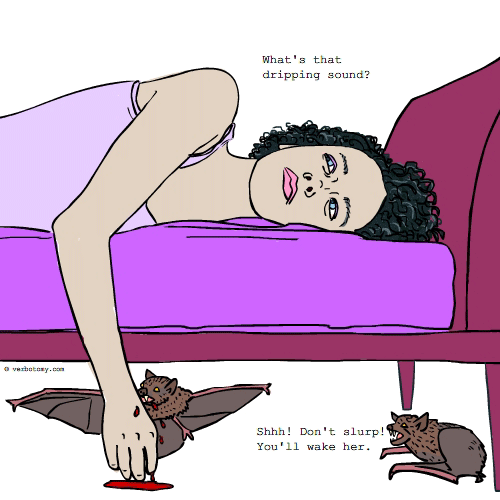 DEFINITION: n. Strange sounds that keep you awake in the middle of the night. v. To lie in bed unable to sleep because you keep hearing weird sounds.
Voted For: Insomnoises
Successfully added your vote for "Insomnoises".
Pronunciation: in som noy zes
Sentence: Morphea Wakemore had moved into her first new house recently. She loved the location, the layout and features of the new place. It was an older home, with a colorful past, but it gave her the character she wanted. Everything was perfect except for the insomnoises. She might drop off at her regular bedtime, but every night at 2:45 am the sounds started. Creepy, strange and eerie noises that kept her awake for the rest of the night. When she checked with her realtor, she was assured this was a common complaint in her new home town of Amityville.
Etymology: Insomnia (an inability to sleep; chronic sleeplessness)& Noises (sound of any kind (especially unintelligible or dissonant sound)
Points: 542
Voted For!