Verboticism: Milkcratetivity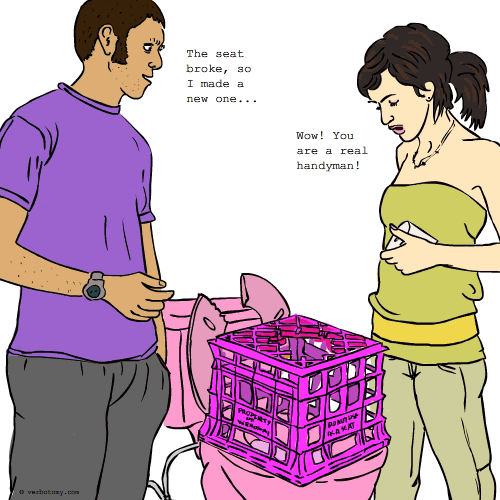 DEFINITION: n. The creative, yet blatantly illegal use of plastic milk crates, and the latent fear of prosecution associated with this alleged crime. v. To create and build home furnishings using stolen milk crates.
Voted For: Milkcratetivity
Successfully added your vote For "Milkcratetivity".
Pronunciation: milk cray tet tiv ity
Sentence: His artisitic name was EggNog Au Lait and he was famous for his milkcratetivity. He was not from here...some said he was from the Milky Way. He had designed many pieces of furniture and other art from the lowly plastic milk crate. Every opportunity he stole them from retail and wholesale places, backyards and dumps. When their owners awoke to find them missing, they realized they were evaporated milk crates. The main reason Eggnog was gathering these plastic gems was that he badly wanted to win a world's record. Yes, he was going to create a life-size model of the Eiffel Tower entirely out of milk crates. He finally had enough and started erecting his structure. While he labored on it, a big time promoter offered to pay him for it when he had completed the job, so that he could display it outside his French Restaurant, which lay in a pasture....(which served French fries, French Dip & French Toast). When the structure was complete it was moved to the country, where people could see that the Tower was made from pasturized milk crates. Eggnog skimmed extra money from the project. When the promoter asked him what his profit margin was on milk crate designs, he said, "Oh, just 2%".
Etymology: Milk Crate (Milk crates are square or rectangular interlocking boxes made out of heavy-duty plastic that are used to transport milk and other products from dairies to retail establishments. These crates are often stolen for either personal use or for the plastic that they are made out of) & Creativity (the ability to create)
Points: 752
Voted For!