Vote for the best verboticism.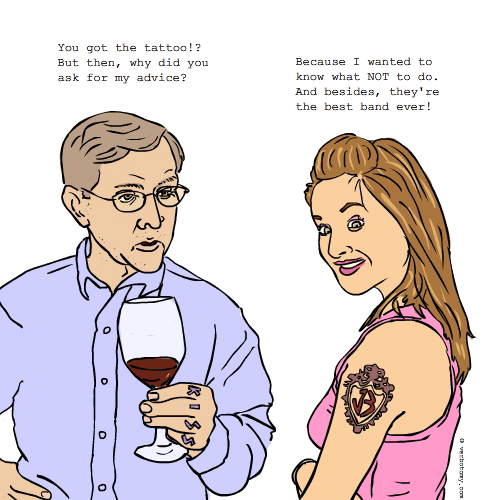 DEFINITION: n. Advice which is asked for, considered, and then promptly forgotten -- until it is too late. v. To ask for, listen to, and then reject or ignore advice.
Verboticisms
Click on each verboticism to read the sentences created by the Verbotomy writers, and to see your voting options...
You have two votes. Click on the words to read the details, then vote your favorite.
Created by: metrohumanx
Pronunciation: in-KWERK-EE-YODDA
Sentence: Help me please she beckoned… But I had not quite reckoned- How rapidly discarded Would be advice departed. A mental intifada.... Don't seek INQUIRKYADDA!
Etymology: INquiry+QUIRKy+YADDA(yadda)=INQUIRKYADDA.....INQUIRY: a request for information; 15th century.....QUIRKY: a peculiar trait; origin unknown Date: 1565 .....YADDA(yadda): alteration of earlier yatata idle chatter, probably ultimately from British dialect and argot yatter-yatter to chatter, of imitative origin Date: 1980 :)
----------------------------
COMMENTS:
great sound to inquirkyadda - a fun to use word - splendiction, 2009-04-27: 21:46:00
It sounds Spanish. - hyperborean, 2009-04-28: 00:58:00
You're all too kind.Thank you! - metrohumanx, 2009-04-28: 01:32:00
Vote early, vote often! A pox on poseurs! Throw the shills from the balcony! Twenty lashes with a wet noodle for stuffing the ballot box! Where's my medication? - metrohumanx, 2009-04-28: 01:35:00
----------------------------
Created by: splendiction
Pronunciation: rhymes with CONSULTATION
Sentence: Her consultheyshun with dad about getting the tatoo served to confirm her decision.
Etymology: From CONSULT (ask advice), HEY , SHUN (avoid).
Created by: Biscotti
Pronunciation: vaal nuur in ss
Sentence: Robert felt his opinion was of valnurance to Adam on whether or not to jump off a bridge because everyone else was doing it. Robert advised it was not a good idea pointing to the fact that they all had perilled. Adam seemed to agree. Then, instead of taking the advice, Adam went ahead and did it anyway just to be popular.
Etymology: Value (importance or need of something) + ignorance (not paying attention or valuing something)
----------------------------
COMMENTS:
Sounds like you've met my kids. - mrskellyscl, 2009-04-27: 12:21:00
----------------------------
Created by: galwaywegian
Pronunciation: kown sel ur
Sentence: her mother was the ultimate counseller and she was the ultimate counsellerr
Etymology: counsellerr=receive counsel and err any way
Created by: fabdiva
Pronunciation: wiz-dam-pen
Sentence: Sarah was outraged when the new barista suggested that she substitute soy for milk in her morning latte. 'If I want your wisdampen, I'll ask for it', she barked.
Etymology: Wisdom - experience/knowledge. Dampen - throw cold water on.
Created by: readerwriter
Pronunciation: cown-sill-ee-nehs
Sentence: "In the multitude of counselors there is wisdom," the Good Book says, but Tiffany consistently rejected the advice of her elders, calling it counsilliness.
Etymology: Blending COUNSEL, meaning advice, guidance + SILLINESS, meaning a lack of good sense
----------------------------
COMMENTS:
now I understand the Tiffany reference - nice sounding word - Jabberwocky, 2009-04-27: 15:27:00
----------------------------
Created by: Koekbroer
Pronunciation: cont ri jek shin
Sentence: After asking my permission, which was immediately denied, she nevertheless ignored my wishes and contrijected me then and there, by turning around and displaying it as a done deal on her body!
Etymology: portmanteau of "contribution" and "rejection"
Created by: artr
Pronunciation: badvīs
Sentence: Jill would often seek out her uncles's badvice, knowing that she was on the right track if she did the opposite. To date her best reversal was to invest in this quirky little company called Apple who her uncle said would never amount to anything.
Etymology: bad (of poor quality; inferior or defective) + advice (guidance or recommendations concerning prudent future action, typically given by someone regarded as knowledgeable or authoritative)
Created by: artr
Pronunciation: kon-truh-men-tawr
Sentence: After a series of poor results following advice offered by a co-worker Joyce started using him as a contramentor, doing just the opposite of whatever he suggested. So far things are going along swimmingly.
Etymology: contradiction (asserting the contrary or opposite) + mentor (a wise and trusted counselor or teacher)
Created by: Nosila
Pronunciation: ink nord
Sentence: When Buffy asked her Pop if she should get a tattoo, he advised her against it. Afterall, he said, her tastes would change and she may regret it later. Imagine his surprise when his advice was inknored. Buffy came home with a wopping great rockband tattoo on her arm. Pop should have showed her his Twisted Sister tattoo on his buttock...
Etymology: Ink (tattoo) & Ignored (disregarded)